Home > Product&Service > GILS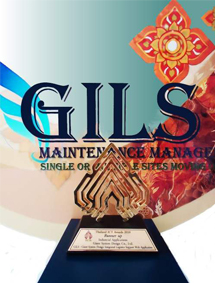 Web-based application (AJAX)
With multiple sites data synchronization
(both online and offline).
Over the years, Giant System Design Co., Ltd. has developed GSD ILS Software (GILS) for customers not only in Thailand but also for customers of many Asian countries and European Country. Our ILS solution focuses on the issues that affect the support of a system which includes elements such as test and support equipment, supply support, personnel and training transportation, materials handling and also computer resources. All of which are necessary for the implementation of material flow and distribution functions, as well as sustaining the life cycle support of the system throughout its period of use.
Comply with military standard
GILS manage the maintenance plan from multi perspectives (availability of technician, skill levels, required training courses, parts, tools, test equipment, support facilities) to improve system reliability, continuity and reduce overall maintenance cost.
GILS:
- Forecast the maintenance schedule from Operation time and calendar time compare with equipment usage plan.
- Enable centralized procurement to support multiple sites maintenance plan.
- Running on the same framework of the GSD's FMEA tools (GIAF).
Further more, GILS comes with Engineering consulting services including the following activities:
- Provisioning Analysis.
- Life Cycle Cost Analysis (LCCA).
- Maintainability Engineering.
- Level of Repair Analysis (LORA).
- Logistic Support Analysis (LSA).
- Reliability Engineering.
- Integrated Logistics Support Management (ILSM).
- Failure Modes Effects and Critical Analysis (FMECA).
- Reliability-Centered Maintenance Analysis (RCM).
- Human Engineering Analysis.
For more information please contact us or send email to technical@giantsystemdesign.com
Download GILS Brochure (2.87 MB)