Home > News Letter > News Letter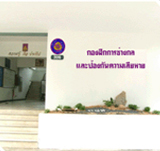 ILS (Integrated Logistics Support) Course Training.
Giant System Design Co., Ltd. was honored by the Fleet Training Command, Royal Thai Fleet to introduce the ILS Course between July 19-20, 2010 at the Engineering and Damage Control Training Division.
The Introduction of ILS, Reliability-Centered Maintenance, ILS Flow Chart, Configuration Control Plan, ILS Software Implementation and etc. were introduced by GSD to over 20 navies from many divisions. Documents used during this course are downloadable by click here.
July 22, 2010 | Posted by Webmaster
Photo Gallery.